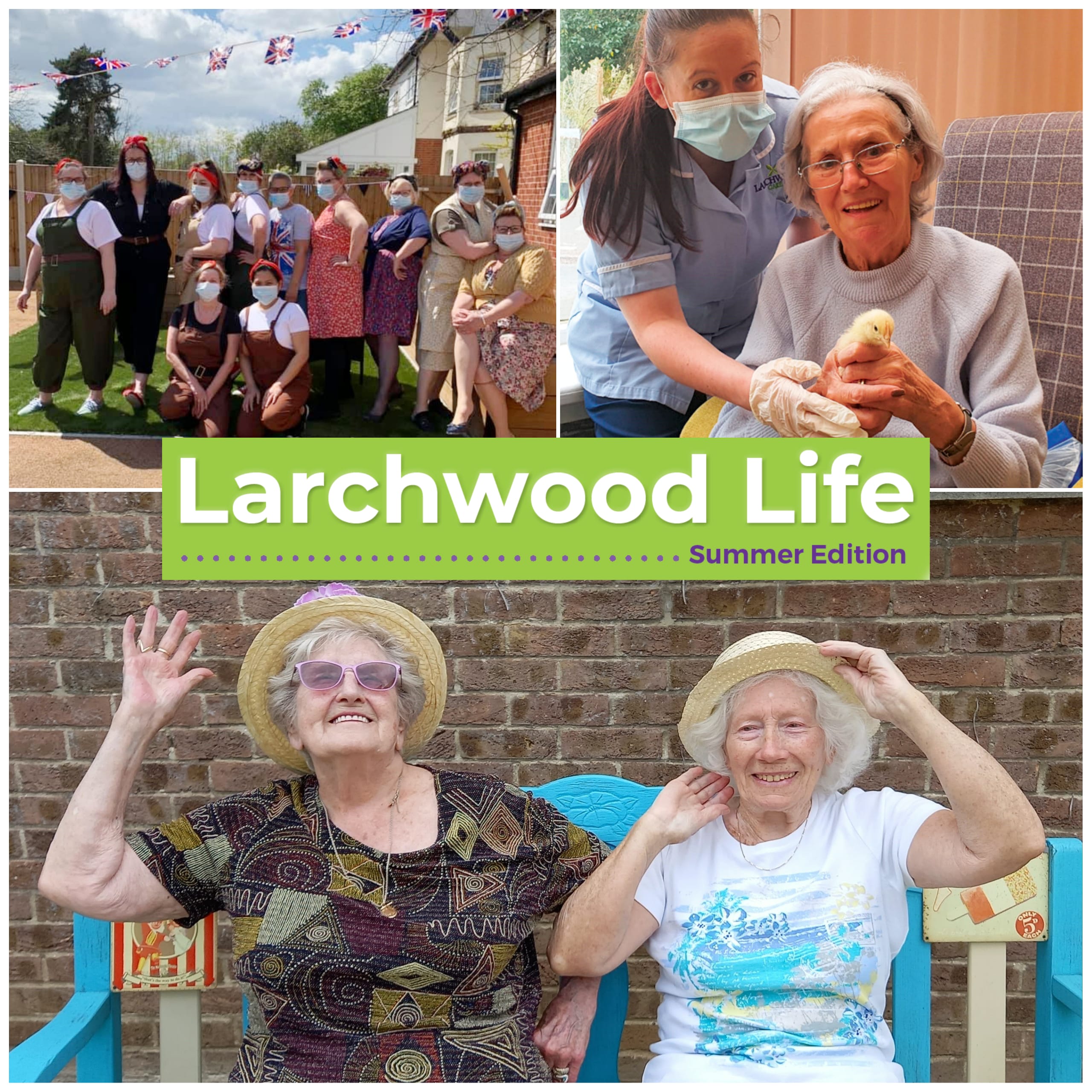 Larchwood Life Newsletter – Summer 2021 Edition
With warmer summer days upon us, residents at Larchwood Care Homes across the country have been making the most of their beautiful outside spaces.
In the summer edition of Larchwood Life, you'll learn how our residents have been enjoying garden parties, fundraisers and seasonal colour in the great outdoors!
Fluffy New Residents
While a great number of our homes boast revamped garden areas full of summer blooms, the Avonbridge family in Hamilton have welcomed some new feathered friends to their courtyard. In the summer newsletter, you'll discover the residents' joy of hatching chicks and watching them grow. Nurturing the hatchlings proved to be incredibly soothing for many of the Avonbridge residents, bringing back fond memories of chicken coops and fresh eggs for many.
A Good Old Knees Up For VE Day
Following the nationwide celebrations of last year's 75th anniversary of VE Day, the teams at our homes were keen to create another memorable day for our residents this year. Once again, the 8th of May saw our homes decked out with Union Jack flags, banners, and hats, as the sounds of Vera Lynn and Glen Miller filled the air. In this newsletter, you'll read how we took time to reflect on those who lost their lives during the Second World War but also recreated the street party atmosphere of 1945.
Raising Dementia Awareness
With many Larchwood Care homes specialising in dementia care, raising awareness and supporting vital research into dementia are very close to our hearts. Earlier this summer, our homes held many events for Alzheimer's Society's Dementia Action Week and Cupcake Day. In addition, some of our residents and team members took on challenges of their own. Download the Larchwood Life Summer Newsletter below to learn more about Sam's cycle challenge and a sponsored walk that brought residents and loved ones safely back together.
You can view the Larchwood Life Summer Newsletter here.
Click here to search for Larchwood Care Homes in your area