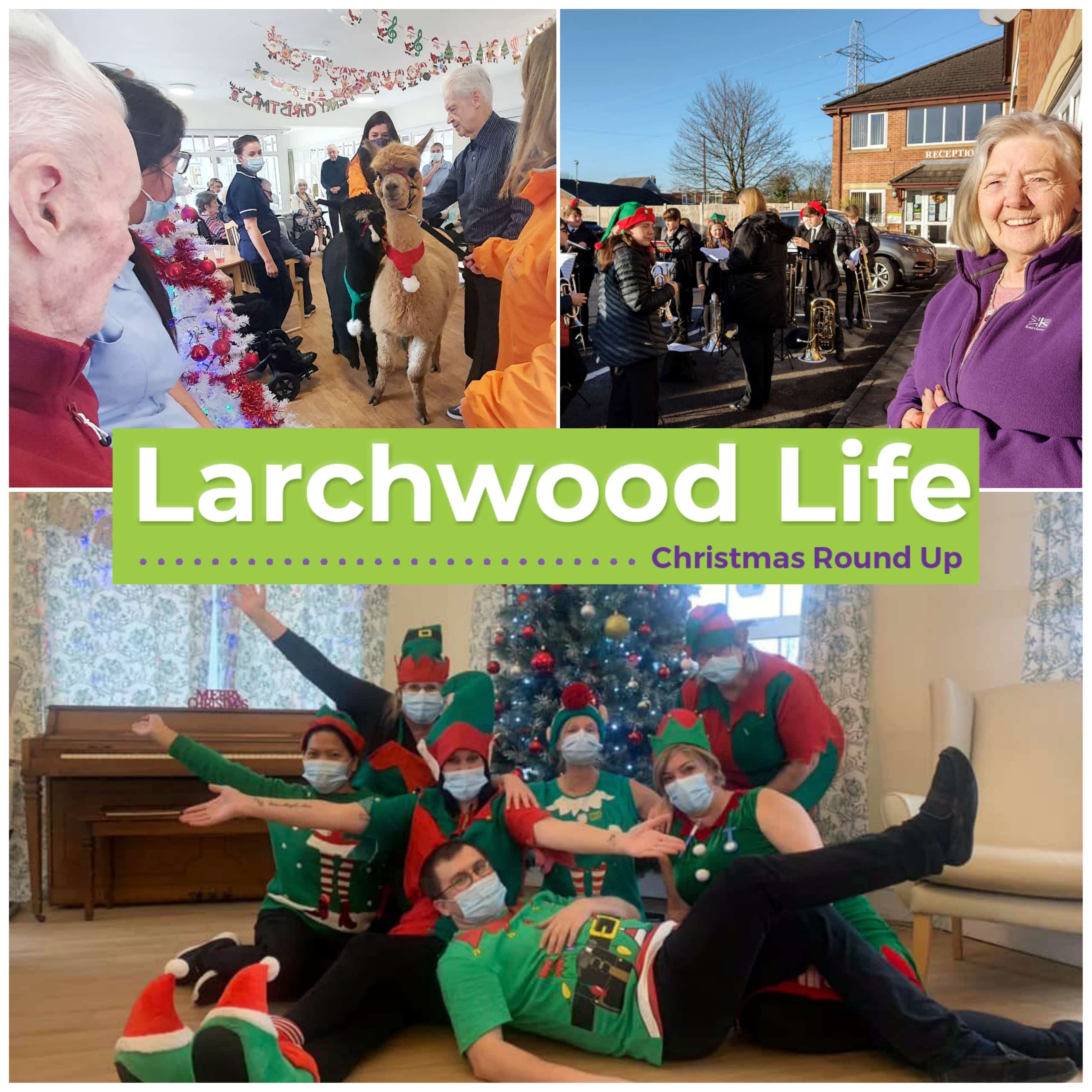 Larchwood Newsletter – Christmas Round Up
At Christmastime, there is never a dull moment at Larchwood Care Homes! Each week throughout December there is something different to look forward to and plenty of festive crafts and decorations to make and display. 
Though the Omicron variant of Covid-19 continued to have an effect on visiting guidelines, it was pleasing for all to see considerably more familiar faces visiting their loved ones than this time last year. Relaxations in visiting restrictions also meant that Christmas 2021 saw a safe return of some of our residents favourite entertainers and external activity providers
Santa's Helpers
In recent years, Alzheimer's Society's annual Elf Day has become the official start of Christmas at care homes across the United Kingdom. As a day of dressing up fun designed to raise awareness of a cause very close to our hearts, our teams are always excited to don their elf hats and pointy shoes to become Santa's helpers for the day. Even if that does mean getting a few curious looks on the walk into work! In this edition of our newsletter, you'll get a glimpse of our impeccably dressed class of 2021 elves.
Welcome Back
We are always pleased to see our local community groups and organisations, but especially so when they come to surprise our residents at Christmastime. After many months of virtual entertainment via Zoom, our homes were pleased to welcome back some firm favourites in person. For one home this included a Yuletide visit from pair of alpacas who were dressed for the occasion! Elsewhere, it was lovely to see brass bands and school choirs perform outside as our residents watched on in the warm.
The Larchwood Care Christmas Card Competition
This year, we were keen to help our residents and team members remember happy times of Christmasses gone by. We challenged each of our care homes to create Christmas cards based on happy festive memories, with a winning card set to be printed for friends and family. The results were heartwarming, with some hilarious family anecdotes unearthed! Follow the link below to the newsletter to see the winning design.
You can view the latest edition of the Larchwood Life Newsletter here.