Larchwood Care Residents Get Creative for Christmas
This year, we wanted our Larchwood Care Homes across the United Kingdom to celebrate their residents' fondest Christmas memories with our first annual Christmas card competition.
We asked each of our care homes to help their residents to design a Christmas card featuring their happiest Christmas memories. To enter the competition, each home was asked to send their entries to the Larchwood Care head office team with a brief summary of the story behind the card.
With the promise of the winning design being turned into a professional Christmas card to be sent out to residents' families and supporters of the home, we were overwhelmed with the number of entries!
Among the submissions, there were some truly touching designs and many wonderful stories. All of which made the judge's job of deciding the winner card even tougher.
Hilarious Anecdotes
Our hope was that the activity would help our residents and team members get into the festive spirit by reminiscing about their favourite Christmases across the years. As well as heartwarming memories such as family gatherings, building snowmen and the everpresent orange in Christmas stockings, there were many hilarious anecdotes.
In an entry from Glasgow's Broomfield Court, the accompanying story told the tale of their mother trying to defrost a turkey in the bath. "I got the fright of my life when I went to the toilet to see this massive turkey floating in the bath. I thought it was a large baby!
"It didn't defrost in time so we had to go with steak pie!"
A huge congratulations to Alwoodleigh in Huddersfield and their resident artist Terry. They are the first-ever winners of the Larchwood Care Christmas card competition!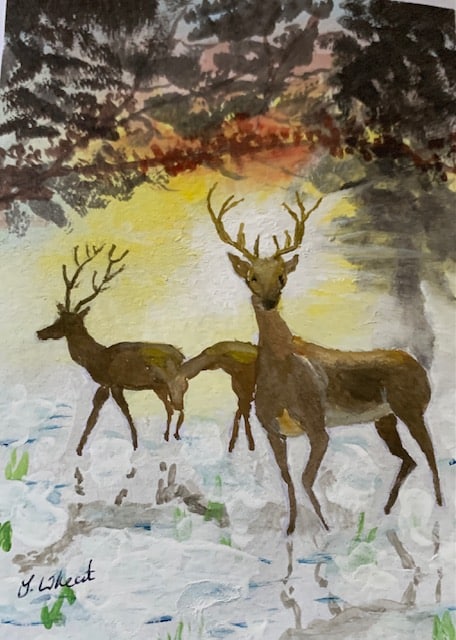 Terry's beautiful hand-painted design was inspired by his last holiday in Scotland before moving into care. As the winning design, it has been turned into a real Christmas card and sent out to relatives and supporters of the home.